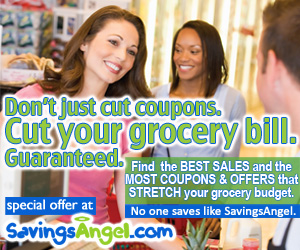 Savings Angel
is a site that I have been a media partner and member of since September of this year. The site makes it easier for the family that wants to save but does not have time to search for the latest deals and coupon match ups for their local stores.
A few of the stores that they have deals and coupon match ups are:
Albertsons
Cub Foods
Kroger
Target
Rainbow
Walmart
Walgreens
Rite Aid
CVS
Safeway
Schnucks
Publix
Hardings
Meijer
Winn Dixie
Lucky Supermarkets
Fry's Food Stores
Shop 'n Save
And this is not even the whole list of stores.
As a member you can print a shopping list of the deals that you are interested in, you can even set the quanity of the items that you plan on buying. There is also links to any printable coupons that your coupon match ups use. It will also give you a total that you will spend, save, and percentage of savings at the bottom of the list.
If you are new to
Savings Angel
they have a library of tutorials to show you how to use the site so that you can maximize your savings. You will also receive a call from a mentor after you join to answer any questions that you have. Another benefit of being a member is that you can earn by referring new members to their site. This is a great way to offset the membership fee of
Savings Angel
. Membership is normally $19.95 for a 30 Days, but Savings Angel has given me the chance to offer my friends a
FREE 3 Day Trial
. Now if you decide to stay a member after the Free Trial, you can either extend your membership for 2 weeks for $5 or you can sign up for the regular membership fee (30 days) and get the second month (30 days) free. If you refer new members to the site you will get $5 per month for every month that they stay signed up for the 30 day membership.
Scenario
FREE 3 Day Trial
+ Join with 30 Day Membership Fee + Second Month FREE= $19.95 for a total of 63 Days of Membership
Refer 4 new members that sign up for 30 Day Membership = $20 Earned If They Stay Members
Difference between the two is that you earn $0.05 more than your membership cost so it is just like getting 63 Days of membership FREE
If you try the free trial and decide you don't want to continue your membership you can cancel your membership anytime through the "My Membership" tab.
I personally like the site and because I seem to be getting busier everyday the site saves me time that I could use wisely with my daughter.
If you decide to try the
free trial
, come back here and leave a comment sharing if you like it or not.
(Disclosure: The views expressed are mine and the info was provided by Savings Angel. I will receive compensation for any referral that stays after the free trial)